Since 1976, the Dutch Clock and Watch Museum in Zaandam has tried hard to show the most complete and interesting rendition possible of the history of time measurement in the Netherlands. Up to 2012, the Netherlands boasted two clock and watch museums: the Dutch Clock and Watch Museum and another museum in Schoonhoven.
In 2013, the museum in Schoonhoven removed the timepieces. After the Zaanstad council terminated its grant to the Dutch Clock and Watch Museum as of 2015, it seemed that the Netherlands would no longer have a timepiece museum. Zaanstad does not assume responsibility for the survival of the museum, because of its alleged very specific presentation for a small audience.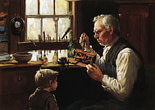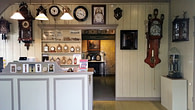 The museum has taken up the challenge and has drawn up a plan, according to which the importance of the Zaanse clock as a product of the great industrial development of the Zaanstreek in the Dutch Golden Age would be emphasized more than ever before. The museum intends to make its presentation more attractive for visitors to the Zaanse Schans. A striking part of this is the name change to Zaan Time Museum (Museum Zaanse Tijd). The museum has an excellent position to pose questions about time at the Zaanse Schans.
2014 wasn't a bad omen for the "new" museum. We had over 12,000 visitors, 32% more than in 2013. In 2017, the museum attracted more than 21,000 visitors. In 2018 we expect to have over 26,000 visitors. More and more people are discovering how interesting this "limited" museum is.
Since 2015, the museum has increasingly become a place to experience the changing times. 300 years of Zaan history are central in this experience.
Through all these changes the Dutch clock and watch collection remains. It has a nationwide background and is of international importance, all the more because the presentation does now include the relevant part of the collection that used to be in Schoonhoven.